◦ Mark's Muses ◦ Mark's Muses ◦ Mark's Muses ◦ Mark's Muses ◦ Mark's Muses ◦ Mark's Muses ◦ Mark's Muses ◦ Mark's Muses ◦ Mark's Muses ◦ Mark's Muses ◦ Mark's Muses
IS URUGUAY THE SWITZERLAND
OF SOUTH AMERICA?
Flying from Montevideo, Uruguay to Buenos Aires, I reflected on my second amazing visit to Uruguay, and a visit to our eponymous partner, Bodega Garzón. Upon landing in Uruguay, we were informed that the human population of Uruguay is around 3.5 million, but the cow population is about 10 million cows! That got me thinking to my days at hotel school in Switzerland.
I immediately started comparing Uruguay to Switzerland and how Uruguay could be to South America, what Switzerland is to Europe, through perhaps not in the way you are immediately thinking.
First, I'll point out they are clearly completely different in so many ways – language, climate, food and basic location on planet earth, amongst many other things. Switzerland has some of the highest mountains and alps in the world, and Uruguay's elevation tops out at 600 feet above sea level. Switzerland is land-locked and Uruguay has beautiful coastlines. Uruguay is approaching their bi-centennial celebration and Switzerland has already surpassed its 700th birthday. And the list goes on.
How about when it comes to the world of wine? The grape varietals found could also not be more different – Switzerland's Chasselas is the equivalent of Uruguay's Albariño, and Uruguay's Tannat is what Gamay is to the Swiss. The list of grape varietals grown the two countries is vastly different, because so much of that is based on the individual terroirs of the respective countries and what works.
To help you turn the corner, and better appreciate my thesis, you need to start to think about these two countries in terms of the geography. They are both nestled amongst giants. Uruguay between Brazil and Argentina, Switzerland between German, France & Italy.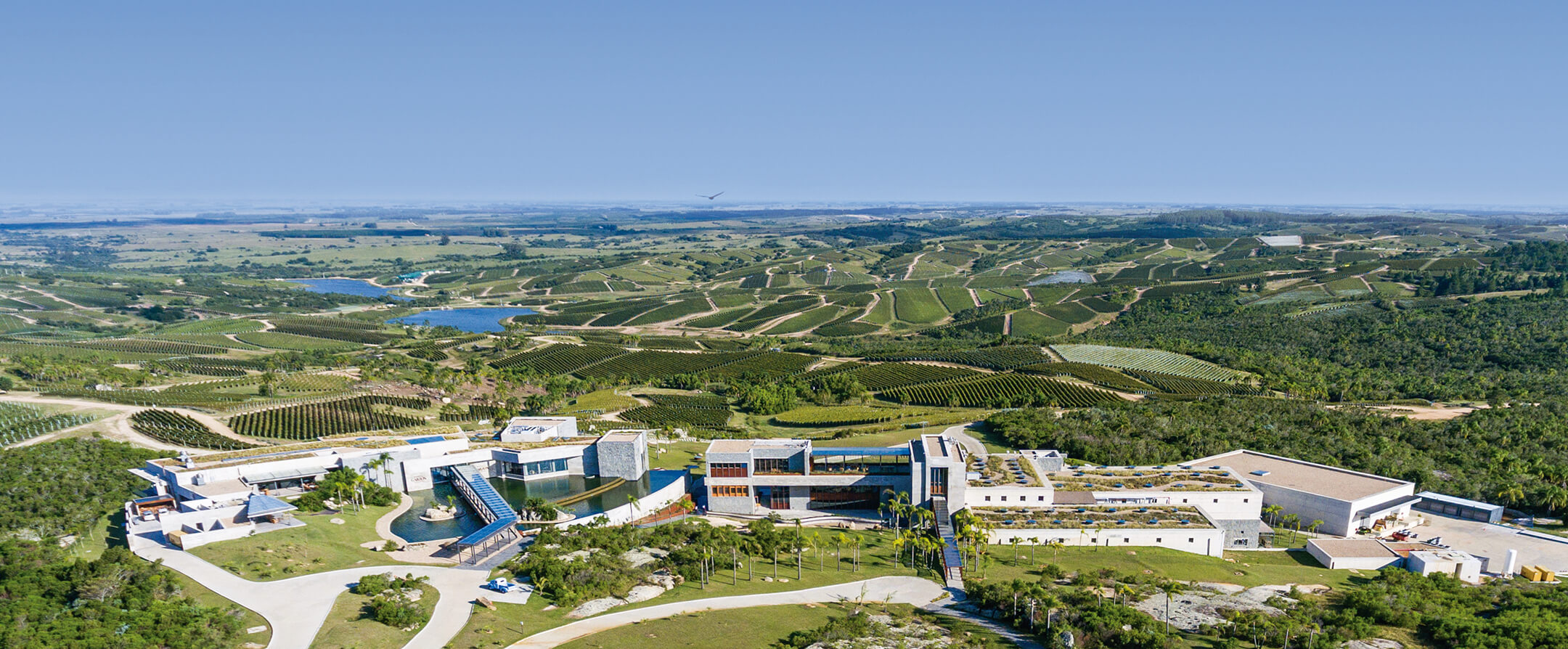 Then compare the Uruguayan wine industry to the Swiss wine industry. Only 5% of Uruguayan wine makes it out of its borders. Something very similar can be said of Switzerland, where despite a thriving and robust wine industry, almost all of what is produced is made for local Swiss consumption. That local thirst for their own Swiss wines means so many in the rest of the world does not get to experience what they make.
We are very lucky to represent Bodega Garzón, which is Uruguay's most exported producer, with around 50% of the export volume. Besides their incredible and sincere hospitality, the dizzying array of highly rated wines which they make on over 1000 acres of vineyards, the winery itself is nothing short of spectacular to visit in absolutely every regard.
I proclaimed at the start of our trip to the group of customers I just brought there, "this will remain the top five winery visits of your life". It was a pretty strong statement especially considering we had about two hundred years' worth of industry experience between everyone in the group. After the visit to Garzón, everyone agreed with my proclamation.
Despite the rarity of seeing these wines in the U.S market, the wines from Garzón are absolute gems and the fact that we have wines to share from this very special nation is a treat. Look into these wines, you will be far from disappointed. The wines speak volumes and one taste will explain why Uruguayans keep most of them for themselves.