Five Generations of Family Farming
Central Coast, California
The Miller Family's farming and ranching legacy dates all the way back to 1871 when William and Francis Broome made that long haul from the old country, England, and began farming in Southern California's Ventura County.
The family originally acquired a Rancho Guadalasca land grant that included a portion of land in what is now a pretty famous region of Southern California; Point Mugu State Park near Malibu. Over the next hundred years the family continued to acquire property along California's Central Coast.
Today the Miller family has three vineyard holdings, totaling more than 2,400 acres of world class vineyards.
Pictured Left: Nicholas, Stephen & Marshall Miller
Nicholas Miller, a fifth-generation member of this winegrowing family was recently named Wine Enthusiast's "2022 Wine Executive of Year," a very prestigious honor in it's 23rd year. 
WORLD-RENOWNED VINEYARD, WORLD-CLASS ESTATE WINES.
The first vineyard holding is Bien Nacido Vineyards, planted in 1973 and known for its unique transverse mountain range across the Santa Maria AVA in Santa Barbara County where the cool ocean influence is perfect for Burgundian varieties.
Bien Nacido is rated in the top 10 vineyards by Wine Enthusiast, top 25 vineyards of the world by Wine & Spirits and top 5 vineyards in California by the Wall Street Journal. And Forbes called Bien Nacido "a single vineyard superstar."
Meaning "well born" in Spanish, Bien Nacido is acknowledged as one of the world's most prestigious Pinot Noir and Chardonnay vineyard.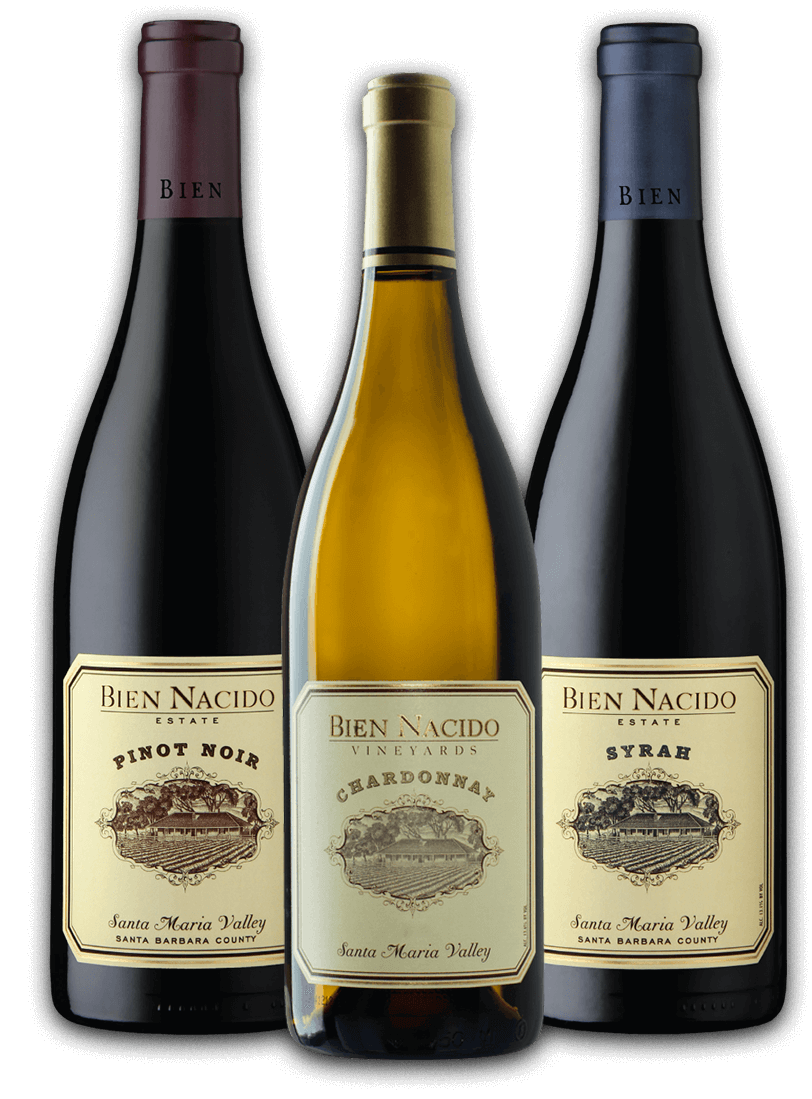 Bien Nacido Estate Chardonnay, Santa Maria Valley
94 Wine Enthusiast
93 Jeb Dunnuck
Bien Nacido Estate Pinot Noir, Santa Maria Valley
93 Wine Enthusiast
96 Jeb Dunnuck
Bien Nacido Estate Syrah, Santa Maria Valley
95 Wine Enthusiast
93 Jeb Dunnuck
WORLD-CLASS CHARDONNAY & PINOT NOIR.
The next vineyard holding is Solomon Hills Vineyard, the western most vineyard in Santa Maria Valley AVA. It's also the coldest sites in Santa Barbara County.
It was named after Salomon Pico, the legendary inspiration for the character "Zorro" who frequented the Solomon Hills. Solomon Hills vineyard was planted in the late 1990's.
It's primarily well-drained with sandy loam soils. The terroir and climate are perfect for world class Chardonnay and Pinot Noir.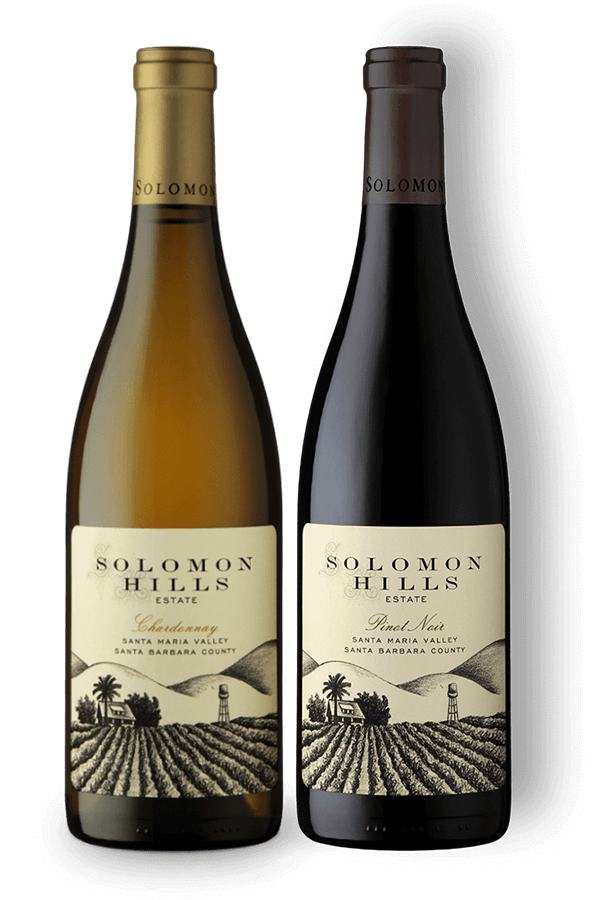 Solomon Hills Estate Chardonnay, Santa Maria Valley
94 Wine Enthusiast (v2018)
94 Jeb Dunnuck
Solomon Hills Estate Pinot Noir, Santa Maria Valley
95 Wine Enthusiast
95 Jeb Dunnuck
PART OF CALIFORNIA HISTORY.
Founded in 1880, the town of Ballard, California is the oldest community within the famed Santa Ynez Valley, just north of Santa Barbara. The town was named for William Ballard who ran the Wells Fargo stagecoach stop from 1862-1870.
Ballard, the town, had an important job. It was the connection point between rural and seaside communities. The movie "Sideways" showcased this sleepy town's coastal bluffs and ranches that merge seamlessly through roads called "lanes."
The Ballard Lane wines showcase the five generations of family winemaking in the region as well as the terroir and climate of the area.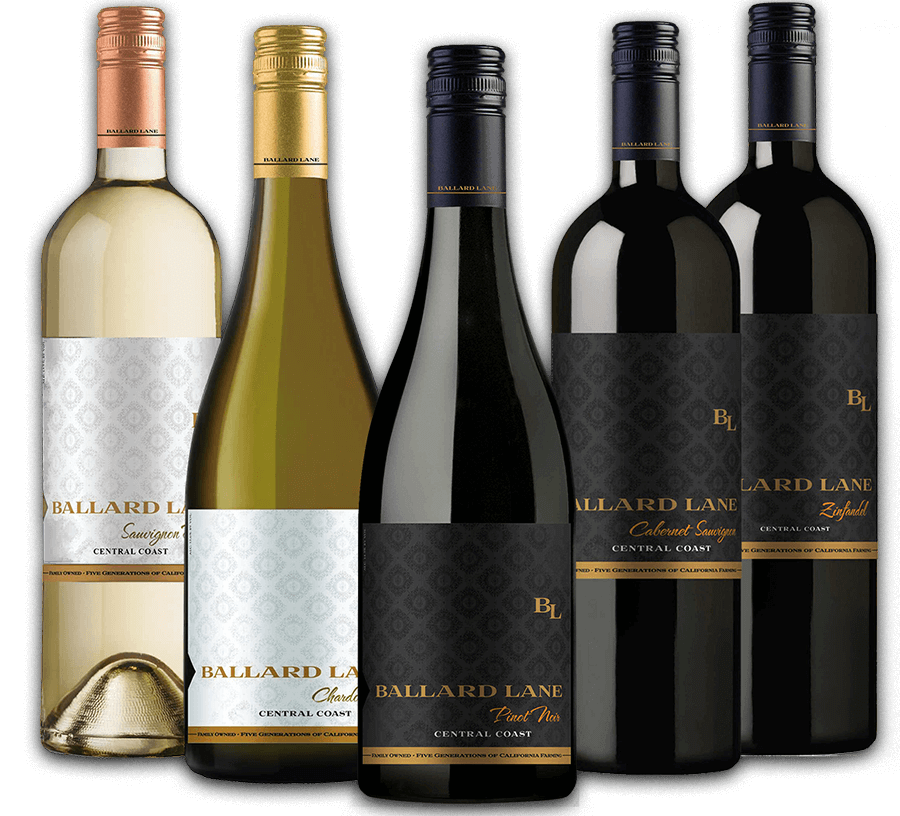 PASO ROBLES WINES. ORGANIC GRAPES. CERTIFIED SUSTAINABLE.
Premium organic grapes sourced from the Miller Family's French Camp Vineyard is what Reciprocity is all about. French Camp Vineyard's Certified Organic blocks ensure no chemical pesticides or herbicides are used at any time during the growth cycle.
In addition, there is the introduction of native wildlife and organic fertilizers which help nourish the land. This wine is a true reflection of the land it comes from and pays tribute to this extraordinary symbiosis.
Reciprocity was founded with a commitment to replenish what it receives, a reverence for the land they tend and a strong held believe that wine should be a true reflection of the terroir it comes from.
PASO ROBLES WINES. ORGANIC GRAPES. CERTIFIED SUSTAINABLE.
Alongside their dedicated focus on sustainability and high-quality, organic fruit, Reciprocity employs premium winemaking techniques throughout the entire production process.
Onsite crushing, fermenting, and bottling facilities at their Santa Maria Winery allow their team to monitor every step of the winemaking process and make real-time decisions regarding the quality of this wine.
With decades of expertise behind them, Reciprocity is able to produce world-class wine that offers a truly authentic expression of the land, is fully sustainable, and crafted exclusively with organic grapes.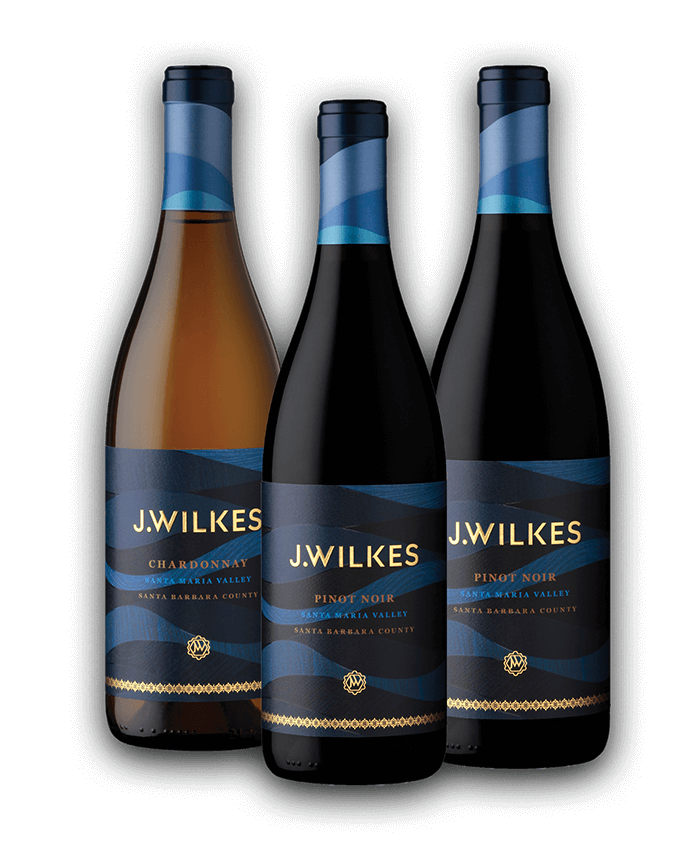 WINES DEFINED BY THE OCEAN.
For almost 20 years, Jefferson H. Wilkes marketed and sold the grapes that grew in the now world-famous Bien Nacido Vineyards, owned by the Miller family of Santa Barbara.
He loved seeing his wines at Michelin-starred restaurants. An accomplished sailor, grape grower and vintner, Wilkes knew whole-heartedly the winemaking potential of California's Central Coast.
He sold wine grapes for the Miller Family for nearly 20 years before crafting his own wine in 2001. Then suddenly in 2010, at the age of 53, Wilkes died. The Millers, wanting to keep Wilkes's wine legacy alive, purchased his brand. Nicholas Miller, whose father and uncle planted the vineyards, has said this about Wilkes: "Jeff's diligence, hard work and love for these vineyards helped to elevate these unique sites, and much of what Jeff did has led to our success today."
Sourced from the unique sub-AVAs of California's Central Coast, J. Wilkes offers an extraordinary range of meticulously-crafted wines defined by ocean influence and worthy of exploration.
J. Wilkes Chardonnay, Santa Maria Valley
92 Wine & Spirits
90 Jeb Dunnuck
J. Wilkes Pinot Noir, Santa Maria Valley
J. Wilkes Cabernet Sauvignon, Paso Robles