"The Kings of Biodynamics"
An Interview with Brent Stone & Ray Nuclo
In 1990, Ed King discovered a parcel of land with rich soil for growing hay to feed local horse and cattle farms. By 1994, more than 100-acres were planted to create the most clonally diverse soil and climate-matched vineyard ever grown in Oregon.
Back in 2002 King Estate was certified organic and in 2016, they received their certification as a Biodynamic farm, a natural and holistic method of farming that traces its origins back to ancient times. Today they have the largest Biodynamic vineyard in North America and remain the "Kings of Pinot."
The Estate is actually treated as an organic eco-system. It features a thriving raptor program, orchards, lush vegetable and fruit gardens, a gourmet restaurant, and state-of-the-art winemaking facility.
We talked with COO & Winemaker, Brent Stone & Director of Viticulture, Ray Nuclo about everything from King Estate's On-Premise only Pinot Noir called "Inscription," to the their very serious commitment to sustainability.
Pictured Left: Brent Stone & Ray Nuclo in the vineyards..
"We have made a commitment to sustainable agriculture practices that few wineries even attempt. From its inception, King Estate held stewardship of the land as a guiding principle — embracing our obligation to future generations."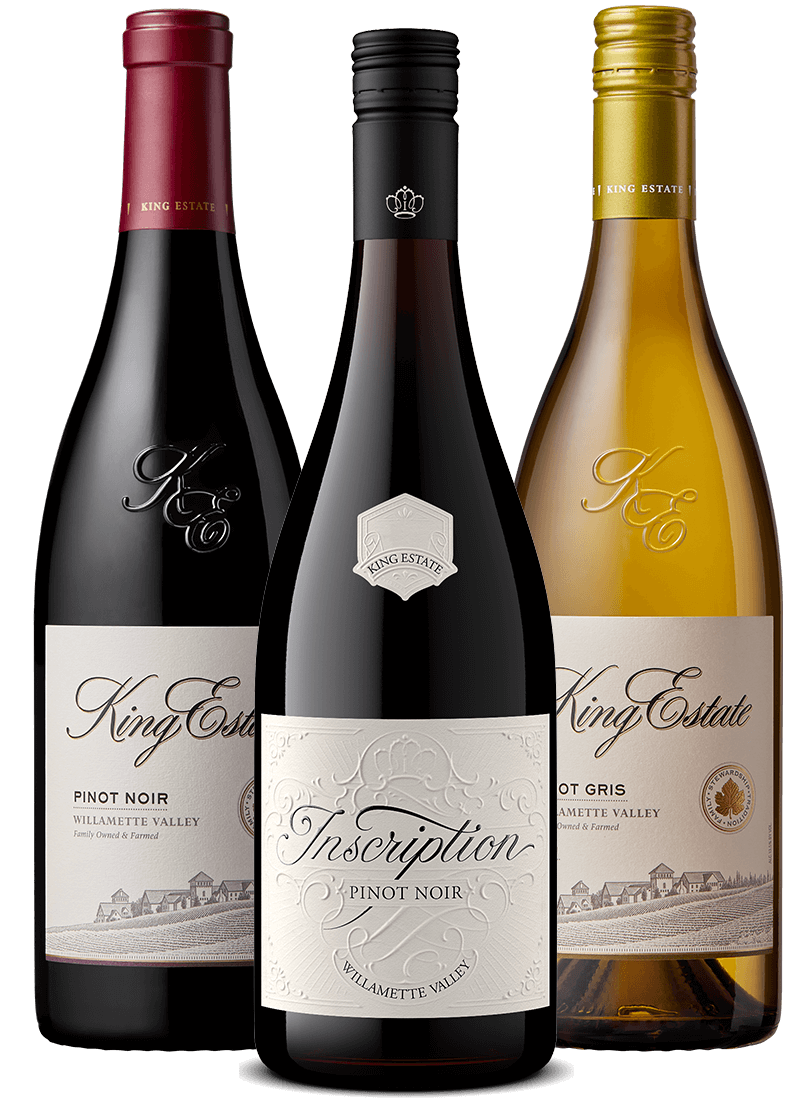 King Estate Pinot Gris, Willamette Valley
90 Wine Enthusiast, Editors' Choice
King Estate Pinot Noir, Willamette Valley
Inscription Pinot Noir, Willamette Valley
91 Wine Enthusiast, Editors' Choice, v2020